Aston Martin DBS GT Zagato Makes Real-World Debut
Aston Martin is making just 19 pairs of the DBS GT Zagato and DB4 GT Zagato.
The Aston Martin DBS GT Zagato and DB4 GT Zagato continuation are finally ready to pose together in the real world, and they look stunning. The brand dubs this pair the DBZ Centenary Collection, and it's making just 19 sets of the two vehicles. The first of them premiere at the Audrain's Newport Concours in Rhode Island. Each pair cost £6 million ($7.374 million at current exchange rates).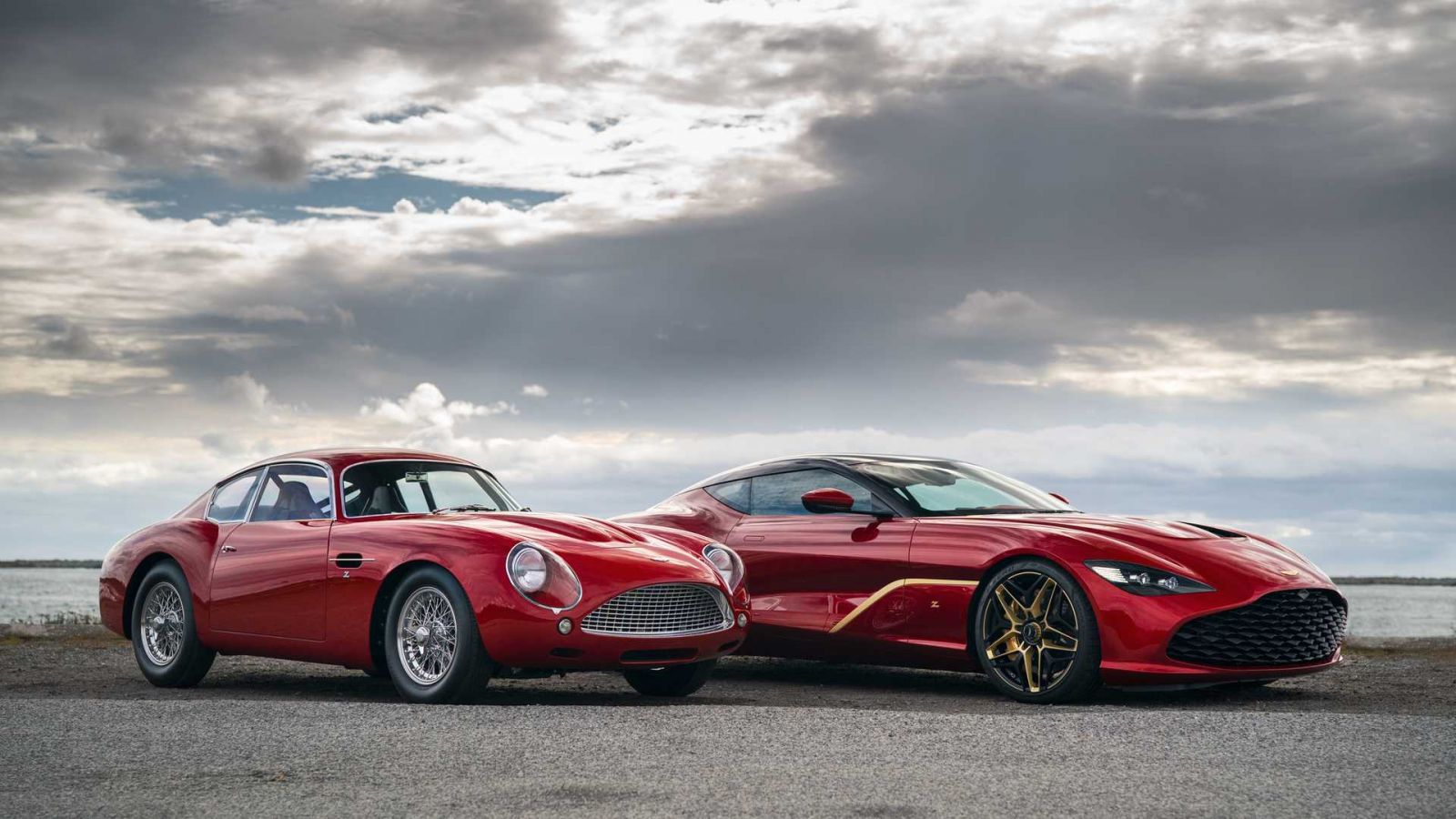 The DBS GT Zagato is a special take on the DBS Superleggera from the famous Italian design house. Compared to the standard DBS, the Zagato features a revised grille with sharp-edged opening slats. Resculpted sides have more notable creases. A double-bubble roof flows back to a redesigned tail with circular taillights. The front and rear badges are 18-carat gold.
Caithness Spicy Red leather covers the cabin. The trim includes a mix of carbon fiber and lots of textured gold elements.
The vehicle features what Aston Martin claims is the "first automotive application of configurable carbon and metal 3D-printed interior finishes." The gold stainless steel requires nearly 100 hours just to print, and then more time is necessary to polish the material.
Power comes from a 5.2-liter twin-turbo V12 making 760 horsepower (567 kilowatts).
"The design studio at Aston Martin has risen to the task magnificently, working alongside Andrea (Zagato) and his team. They have taken the already fabulous DBS Superleggera and shaped it into something which retains its Aston Martin identity, yet expresses itself as only a Zagato can," Chief Creative Officer Marek Reichman said in the GT Zagato's announcement.
The other half of this pair is the previously unveiled DB4 GT Zagato Continuation. The company's heritage division is building them by hand to looks just like the originals but with small updates like carbon fiber seats.
Source: Aston Martin